After my eleven-year relationship ended, I downloaded Tinder. The work in my show "Composite Internet Boyfriend" is an autobiographical narrative that includes personal writing (handwritten directly on the gallery walls) and watercolor illustrations.

The writing jumps between the real world and speculation about the person on the other end of the conversation. The work explores the nature of loneliness and a longing for connection.

I also made a version of this body of work as a zine.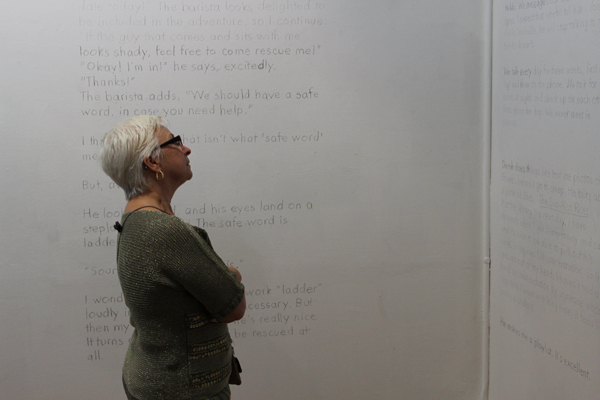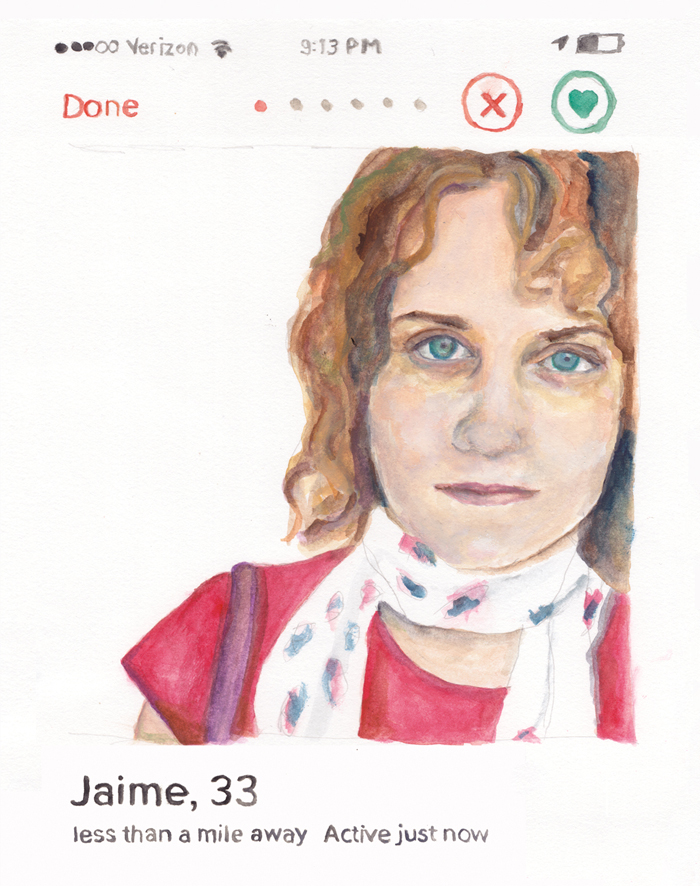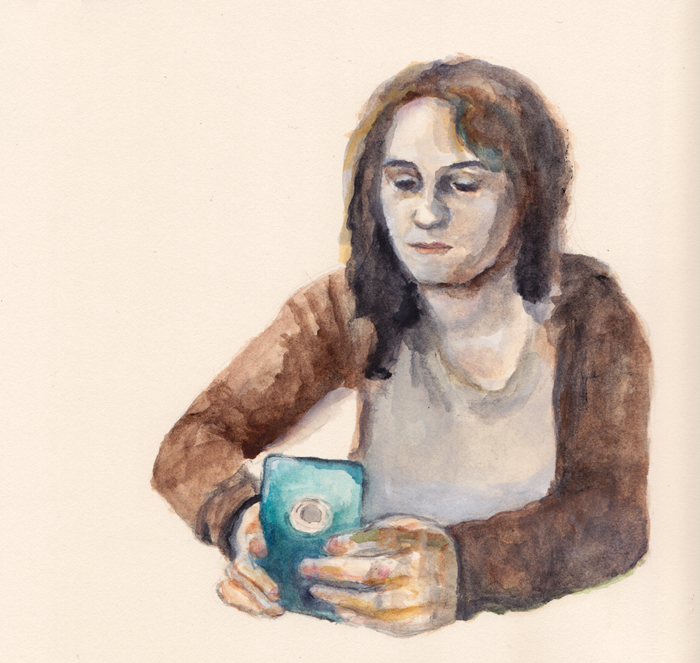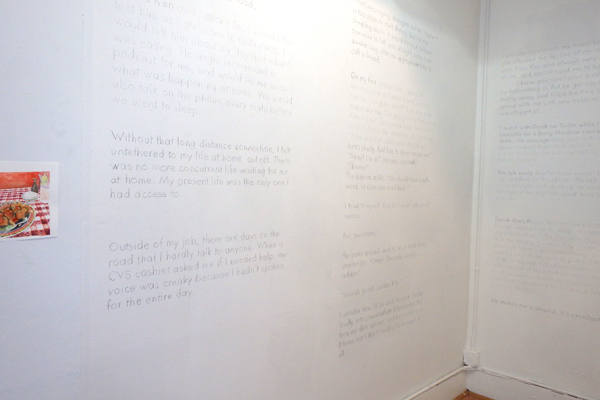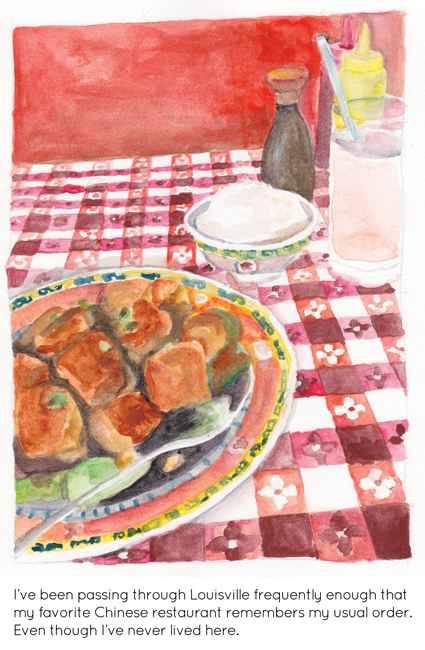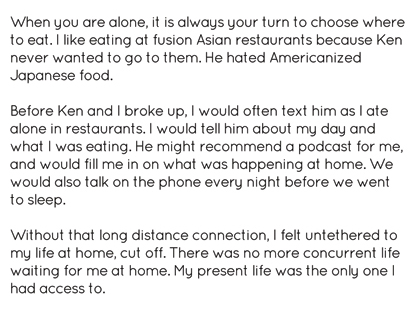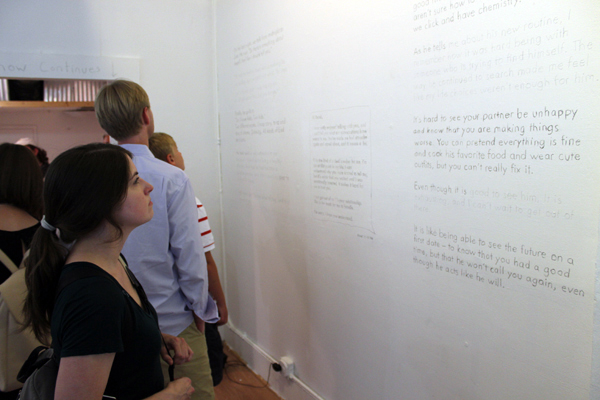 The show documented my sleepless nights after the breakup.
And the three weeks I spent talking on the phone to a guy from another city.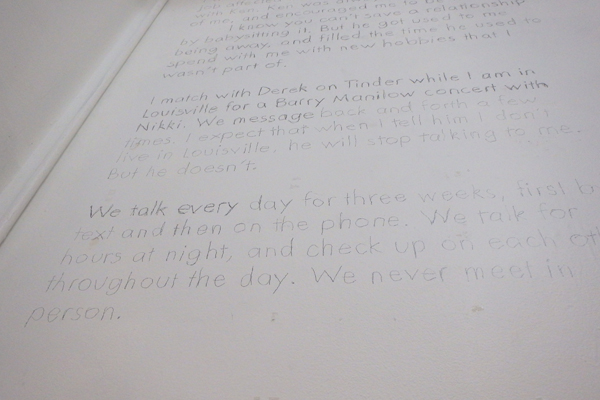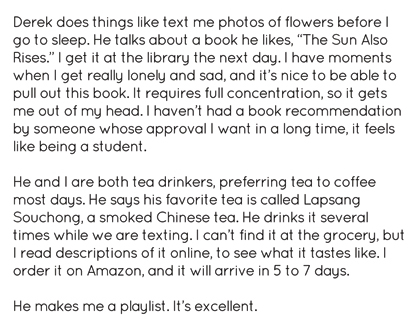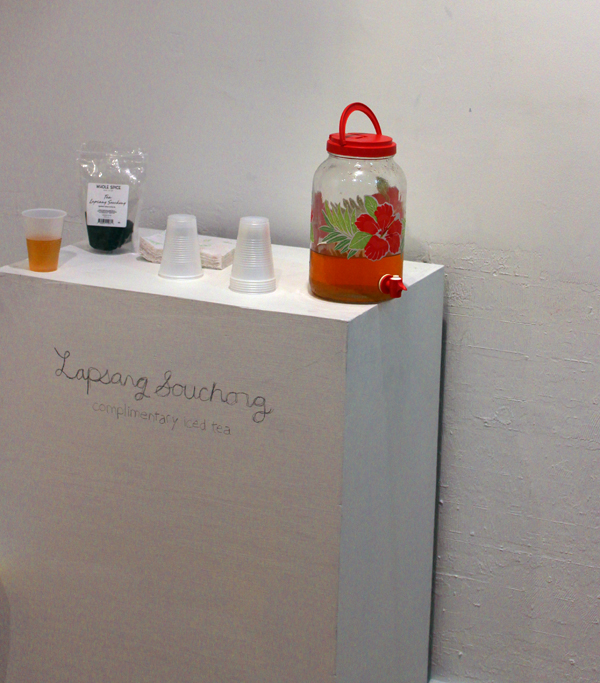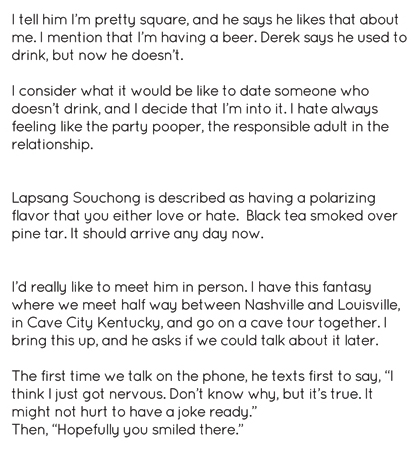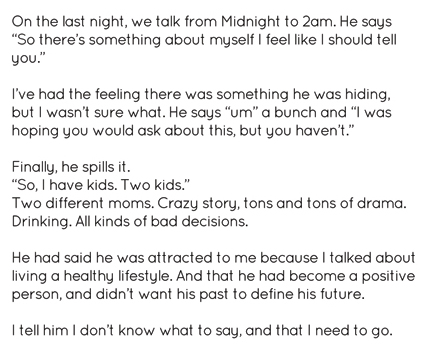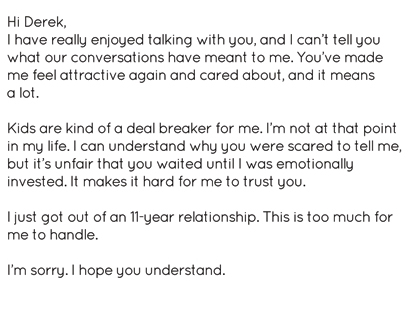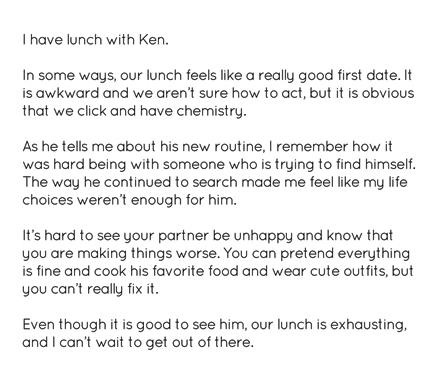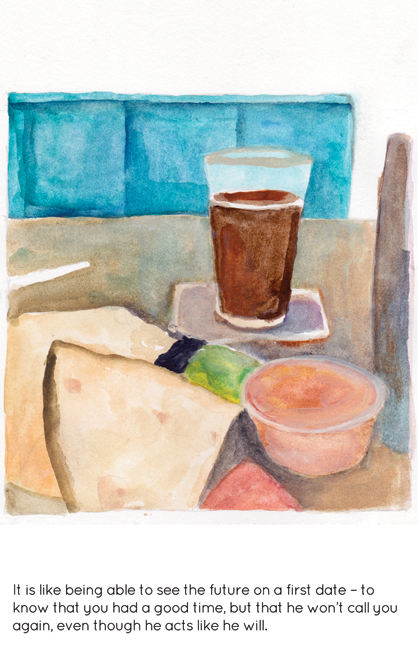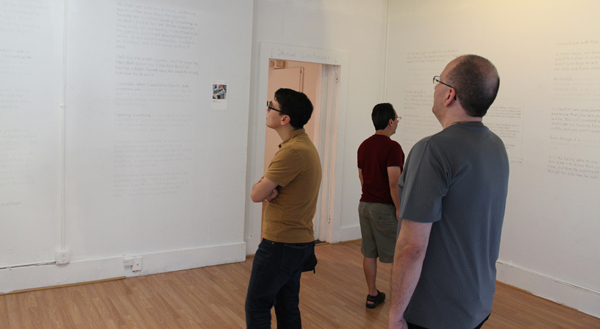 EPILOGUE
The craziest thing about my Tinder show was that it led to me getting a non-online date! An artist acquaintance came to see me at the gallery, and he and I had a nice conversation about our online dating experiences. When I got home later, he had messaged me on Instagram and asked me on a date! I said yes, and we went out later that week. It was slightly jarring going on a date without having an online persona to hide behind. We didn't text much beforehand, so our rapport relied on our face-to-face dynamic. He had seen my show, so it was a little embarrassing to feel like everything in my life was on the table right from the beginning. But it was incredibly exciting to feel like someone wanted to go out with me based on my writing, to feel like someone had seen me clearly for myself and still be interested. We've been dating for two months now, and things are going great! I'm excited to see what happens next.

(epilogue written Oct 2015 for Native Magazine.)


EPILOGUE TO EPILOGUE
P.S.
We are still dating and it is going amazing!
His name is David. ❤
July 2016
......................
Bonus work in the gallery show chronicled my extended Tinder interactions with fake profiles of celebrities.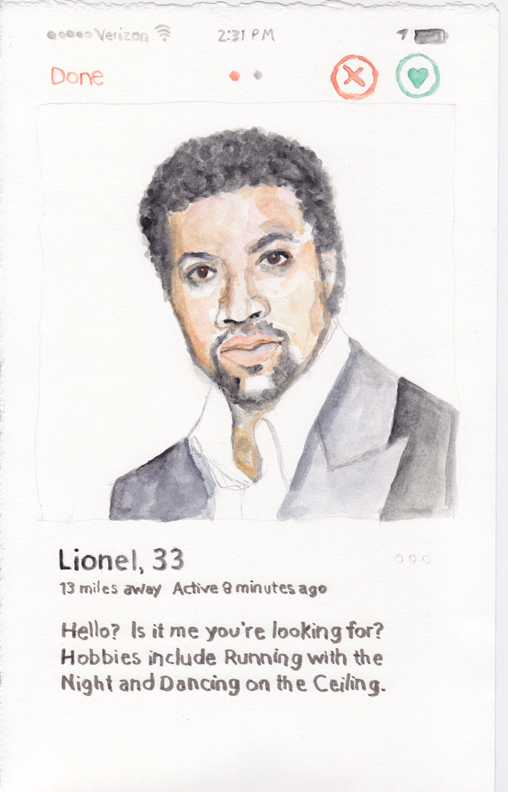 I talked to a guy for a while who claimed to be Lionel Richie.
He eventually revealed himself to be Mark, a married 48-year old with 4 boys.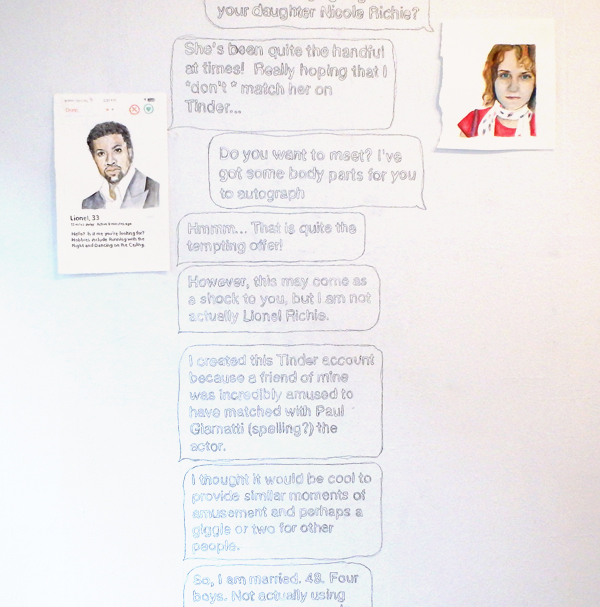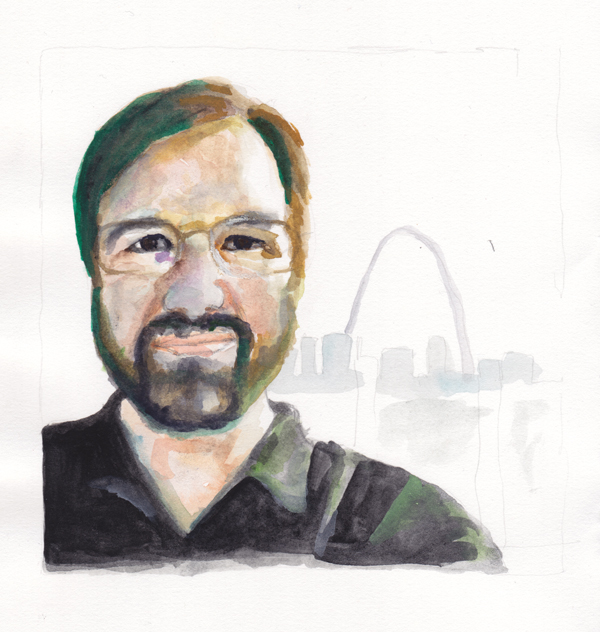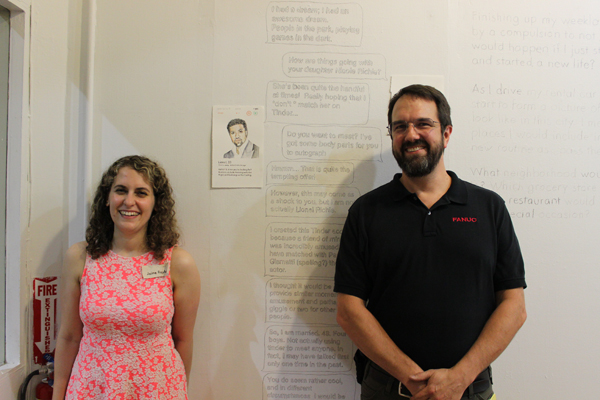 We met in person for the first time at my opening reception.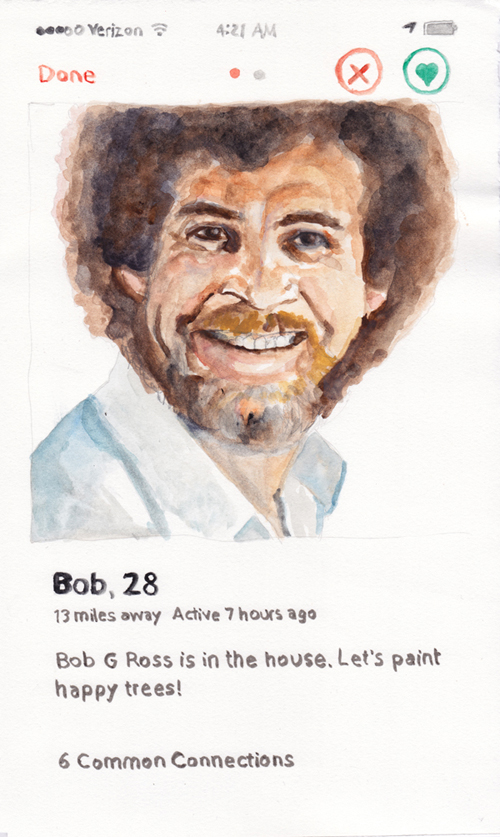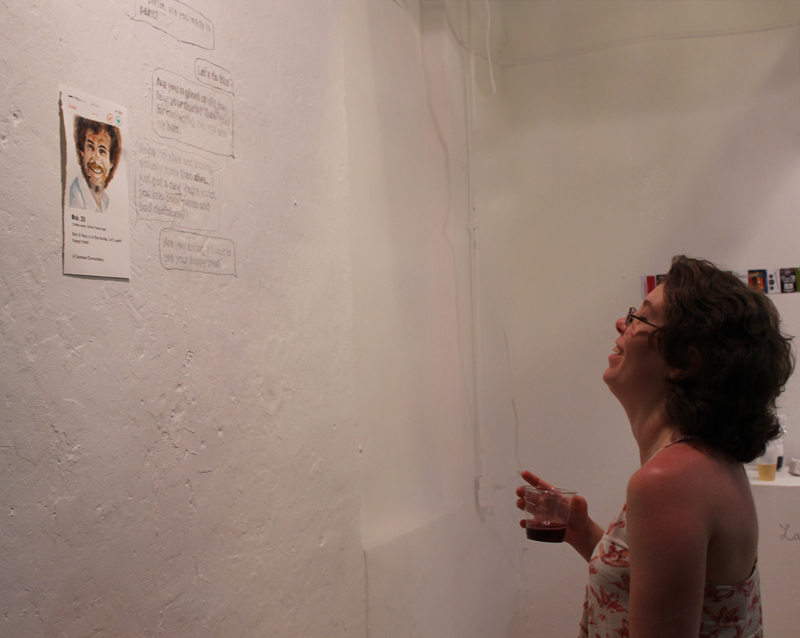 I also talked with "Bob Ross" and invited him to the show, but he didn't attend.
Exhibited
2015 Composite Internet Boyfriend, 40AU, Nashville, TN
2015 Handmade and Bound, Watkins College of Art, Design & Film, Nashville, TN
Thanks to Stephen Zerne, Megan Kelley, and David Raybin for documenting the opening.